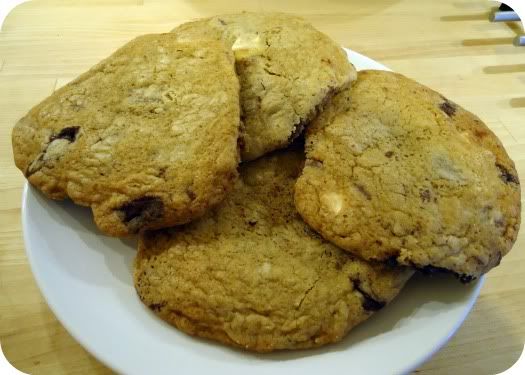 I mentioned on
Twitter
that I'd made a batch of cookies from
The Hummingbird Bakery
book and had a few people asking me to post the recipe. I've made these cookies twice now and I can honestly say that they are the best cookies I've ever made- my favourite cookies are soft and chewy- almost gooey in the middle (like the Millie's cookies, or M&S ones) and these completely fit the bill. I am SO impressed with
The Hummingbird Bakery
cookbook- the brownies I've made from it are also the best brownies I've ever made and all of the cupcakes I've tried are fantastic too. I can't praise it enough.
The book would make a perfect present for Mothers Day- or just for yourself! It is so beautifully presented and looks gorgeous on your shelf. They've also recently launched a new book -
The Hummingbird Bakery Cake Days
which I am eager to get my hands on!
Obviously all credit for the recipe goes to
The Hummingbird Bakery
- I have also added a few extra comments to it.
Ingredients for 24 large cookies
225g unsalted butter at room temperature
(it's important for the butter to be slightly soft as otherwise it's impossible to cream with the sugar- I made this mistake the first time and it was not much fun trying to mix it together!)
350g light brown sugar
2 eggs
1/2 teaspoon vanilla extract
400g plain flour
1/2 teaspoon salt
2 1/2 teaspoons bicarb of soda
225g dark chocolate, roughly chopped
(I decided to use equal amounts of dark, white and milk chocolate instead)
4 baking trays lined with greaseproof paper
Method
1) Pre-heat the oven to 170
°C
2) Put the butter and sugar in a freestanding electric mixer with a paddle attachment (or use a handheld electric whisk) and cream until light and fluffy. Add the eggs one at a time, mixing well and scraping any unmixed ingredients from the side of the bowl with a rubber spatula. Turn the mixer down to slow speed and beat in the vanilla extract.
3) Add the flour, salt and bicarbanote of soda and mix well until a smooth dough is formed. Stir in the chopped chocolate.
4) Arrange 6 equal amounts of cookie dough on each baking tray. Make sure there is enough space for them to spread out while baking (although if they do merge together just cut them apart when they're just out of the oven!).
5) Bake in the preheated oven for about 10 minutes (I think mine were ready at about 13 minutes), or until golden brown around the edges. Leave the cookies to cool slightly on the trays before turning out onto a wire cooking rack to cool completely.
6) Enjoy!
Do let me know if you try making these- they really are divine!