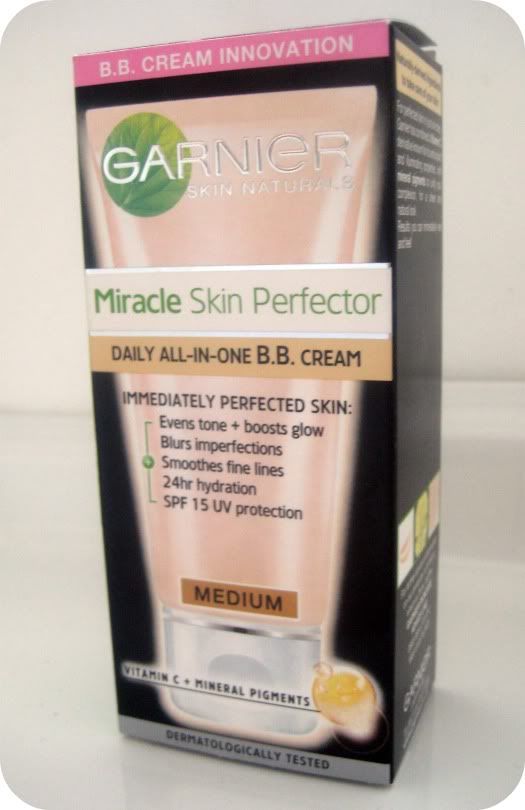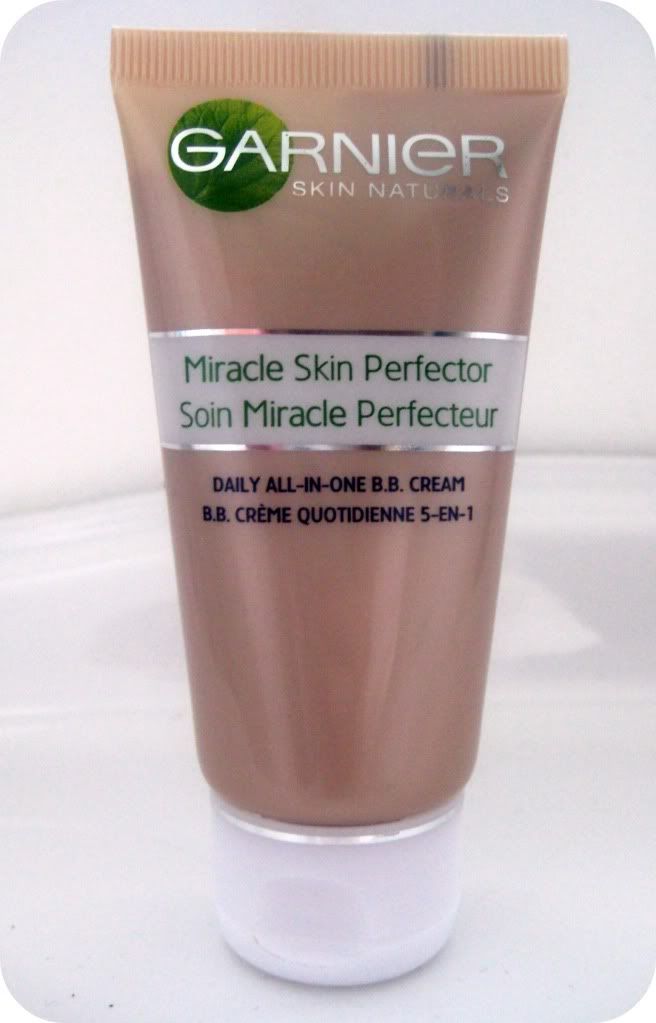 A few weeks ago I started noticing the term 'BB Cream' popping up everywhere. I was intrigued and after some investigation learnt that this stood for 'Blemish Balm' (or 'Blemish Base') and it was a product sold mainly in Asia. The idea of these creams are that they have a number of different uses (which vary from balm to balm) but are generally marketed as both a skincare and cosmetic item.
I am very keen to try some of the BB Creams from Asia with this being where they've originated from, but was excited to see that Garnier were launching one in the UK- the Garnier Miracle Skin Perfector Daily All-In-One B.B. Cream. As you can see from the packaging it has a number of different claims and promises to immediately perfect skin.
On Monday I went straight out on my lunch hour to buy this for £9.99 from Superdrug. There were two shades to choose from- fair and medium. As I've got post-holiday skin I went for medium however I think this would be too dark in autumn/winter so will consider buying fair too. I have been wearing it every day since buying and using it as my foundation.
As you can see it's a really creamy formula and a little goes a long way. I apply it with my fingers and it just feels like applying a moisturiser, very easy to blend- I would definitely compare this product to a tinted moisturiser.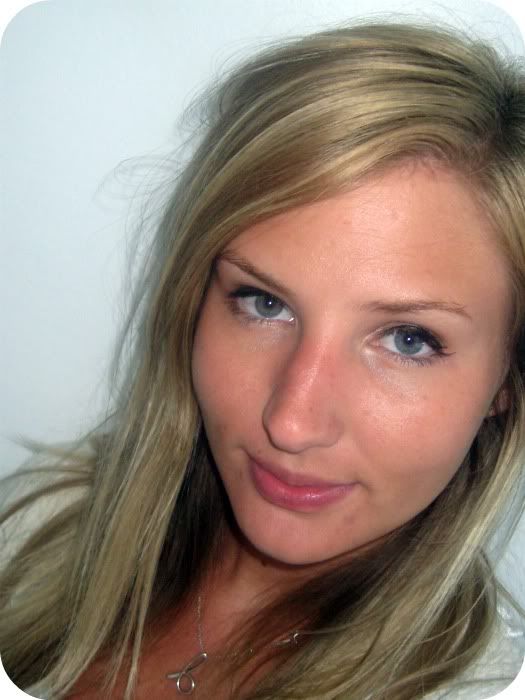 As for the results, the photo above (with rather messy hair after a day at work) shows what the B.B. Cream looks like applied- this is all I'm wearing on my skin. I would agree with all of the claims- my skin feels moisturised all day when wearing it and it definitey adds a glow to my skin without making it look oily or greasy. My boyfriend commented on how good my skin was looking yesterday. I'd also agree that it does blur imperfections rather than cover them completely. I've been using concealer on blemishes on top of this cream, and also my touche eclat under the eyes.
Overall, I am pretty excited about B.B. Creams. I do love tinted moisturisers for the summer and would say this does a really similar job so am bound to enjoy this product- I also like how it's multi-purpose and is doing your skin good by having SPF15 and hydrating the skin. I will be repurchasing this in the fair so I have it ready for autumn/winter too!
Has anyone tried this yet or any of the other B.B. Creams? Would love to hear your thoughts.