I've decided to jump on the Instagram bandwagon and share some of the pictures I have been taking using the fantastic iPhone app (
here
). I think it's a nice post to share on a regular basis and I love looking at everyone's lovely pictures. Credit goes to other blogs but namely
Sailboat
as Jennie has been doing regular Instagram posts which are fabulous and I like how she's been writing a piece about each photo!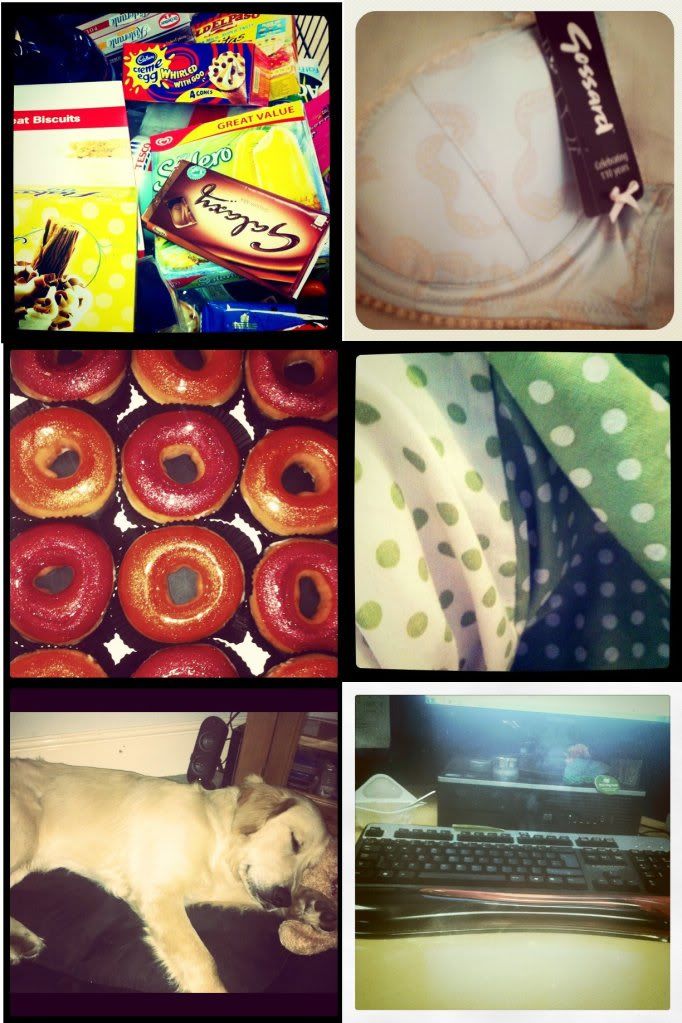 ♥
Mum and Dad were away for the week so Chris and I went food shopping. This is what happened- a trolley full of pizza, chocolates and ice cream. There were some healthy goods under there somewhere!
♥
I used a voucher from
Groupon
to treat myself to some
Gossard
underwear. The deal was £15 for £40 worth of underwear so was a brilliant offer and I am so in love with the set.
♥ Mmmmm- Krispy Kreme Glamour Glaze doughnuts that were delivered on Thursday night and a treat for all the family. In awe of how much the glaze looks like glittery lipgloss!
♥
A new duvet set for the bedroom
♥ Little Charlie pup sleeping on his paw (and cuddly toy). He's just over 7 months now and such a character. He's just been castrated so has had a couple of days of being very quiet (extremely unusual for him) and dopey. He was back to his usual self this morning and bounding around.
♥ My desk at work although only for 2 weeks more as I have a new job at Comic Relief! Very excited to start and to finally look at moving up to a more central area- we have been looking at flats in the Greenwich area which look lovely.