In October last year (I actually can't believe it was so long ago) I received a
very generous delivery
from a bath and body cosmetics company called
Stenders
. There were a couple of soaps in the package and it's only recently that I've got round to using the one on the left.
It was actually my Mum who used this initially and she told me to write a blogpost on it as it's such a fantastic soap- and is so innovative! I've not seen anything like it before.
The soap is called the Grapefruit-Quince Loofah Soap which kind of gives away the concept but anyway... at first it's just like using a normal soap, however as you use it more and more the loofah hidden inside has more of an effect and you can feel it exfoliating your skin as you use the soap. It makes the soap work harder to cleanse your skin and seems to help it lather too. Even though it is now running out we've been just using it to exfoliate on its own. Here is a photo of it so you get the idea...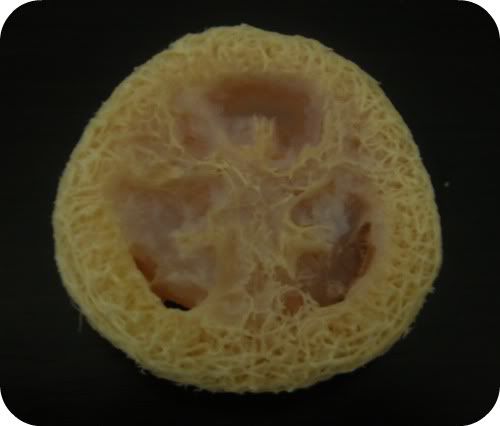 Another thing to mention is the scent- it smells divine and really lingers on the skin. Both my Mum and I have been seriously impressed by this pretty unknown brand- I will definitely be ordering more goodies from their site, especially as I've just clocked their
palette of soap samples
which you can order free and just pay for delivery.