Apologies for my terrible blogging recently. Life has been busy as I've been settling into my new job (absolutely love it) and also flat hunting in London. This evening our offer was accepted on a beautiful flat in Clapham so as long as references are all OK we have a new place to live from mid-October! All very exciting.
I have a few bits and bobs to post about, namely the new Illamasqua perfume 'Freak' and a review of the Liz Earle Skin Repair Light Moisturiser however I thought I would share with you the foundations/tinted moisturisers I currently own.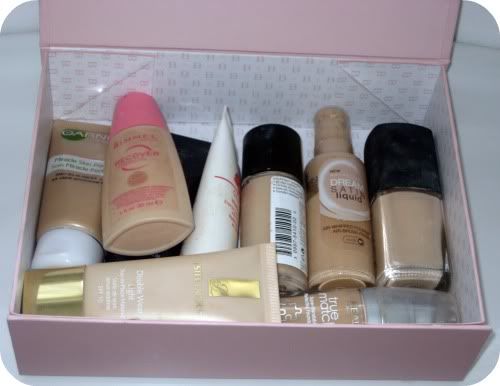 After receiving the
Boudoir Privé box
I decided to utilise the gorgeous box the products came in and have been keeping my foundations and tinted moisturisers in there. I'm tempted to sign up for a few months just to build up a collection of these lovely boxes! But anyway, onto the foundations...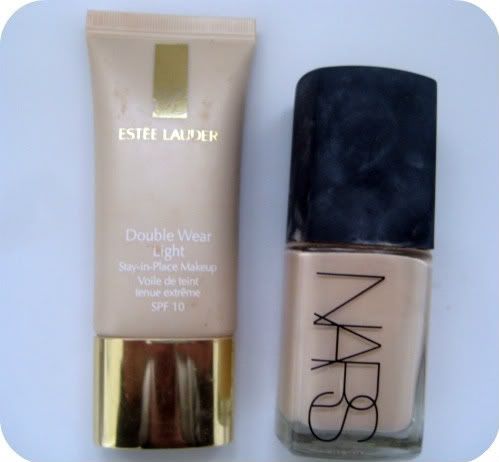 These are my two most expensive foundations; the

Estee Lauder Double Wear Light

and

Nars Sheer Glow

. I wasn't really impressed with the Nars Sheer Glow when I first tried it (I think I was expecting proper amazing results) but recently I have been mixing it with some of my cheaper foundations and it works fantastically. My skin always looks great when I wear this and is a perfect colour match (Mont Blanc fyi). What are your opinions on the Sheer Glow foundations?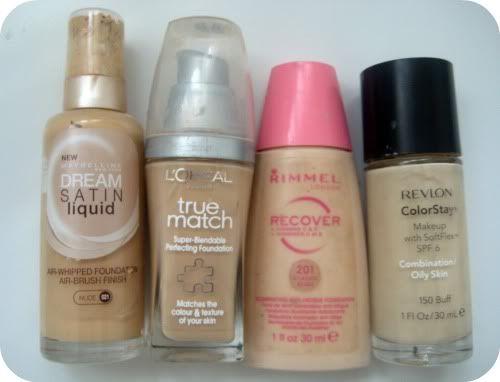 Here are my four more mid-range foundations. The
Maybelline Dream Satin Liquid
is great for mixing with other foundations as I think it's slightly too dark for my skin- it provides lovely coverage and blends so easily.
L'Oreal True Match
is probably my favourite out of the four- it's such a lovely coverage and really does 'match' to my skin. The
Rimmel Recover
is what I used all through summer and especially on holiday- it makes your skin glowy and doesn't feel heavy in the slightest. Finally the
Revlon ColorStay
which I used to use every day without fail- I've actually hardly used this and will probably throw it out soon. I find it far too heavy and if I use it will mix it with a lighter foundation. I did used to love it though.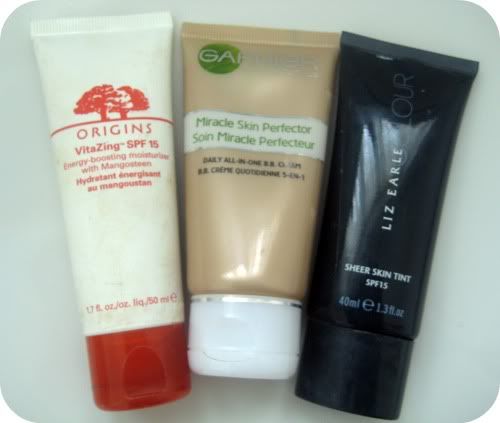 Finally I have three products which are more tinted moisturiser types. The
Origins VitaZing
(
review here
) a summer staple for me and I definitely agree that it's a wonder product- am unsure of how much use it'll get in the winter months however. Could rave about it for a long time! The
Garnier BB Cream
(
review here
) is also brilliant although a bit dark for me now so I'm going to have to buy the tube in fair. Finally, the
Liz Earle Sheer Skin Tint
(
review here
) which I didn't give a fantastic review of, but have found myself wearing it a lot and really liking it.
What foundation/tinted moisturiser are you currently loving? If I had to pick my three favourites out of my current collection I would choose the L'Oreal True Match, Nars Sheer Glow (mixed with other foundations like the Maybelline) and Garnier BB Cream.