Unfortunately the gorgeous picture above is not my bedside table but I do have a lloyd loom which I use for all my bedside products (and other random bits and bobs). I was tidying my room today and thought I'd share everything that is gracing it at the moment- both beauty and random. These are the items that are used regularly so always interesting to see. Let me know if you decide to do this post too!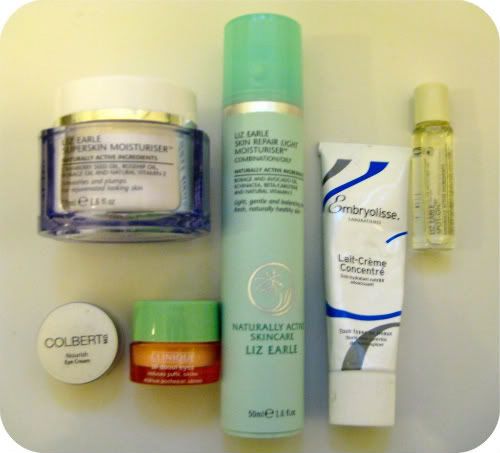 I have three different moisturisers on my bedside table-
Liz Earle Superskin Moisturiser
,
Liz Earle Skin Repair Light Moisturiser
and
Embryolisse

Lait

-

Crème

Concentré

(review here). I use the Liz Earle Superskin most nights as its not too heavy and really works well with my skin, and then use the Embryolisse a couple of times a week as it's more rich but I adore it. It feels so luxurious to apply and blends in so easily. The Liz Earle Skin Repair Light is a recent addition which I'm trying and so far, so good. Will post a full review soon.
I have a couple of eye creams- the

Clinique All About Eyes

and the

Colbert MD Nourish Eye Cream

(from the
Boudoir Privé beauty box).
Both are great- the Clinique is more gel-like and the Colbert is a thicker consistency where you only need a tiny teeny amount.
Finally I have the
Liz Earle Spot-On
which I apply before bed when I have blemishes.
Now onto the more random pieces. My
iPhone 4
is always on my bedside table, usually charging overnight (and whilst I mention the iPhone, RIP Steve Jobs- such sad news. As Obama said "There may be no greater tribute to Steve's success than the fact that much of the world learned of his death on a device he invented").
I also have a
hairband
which I use all time when cleansing my face, a
hair
tie
, a
pen
, my
Kindle
light
and some
Sudafed
. I have my second cold in a month so this is my life savior- I think the commute to London and all the new office germs are making me ill!