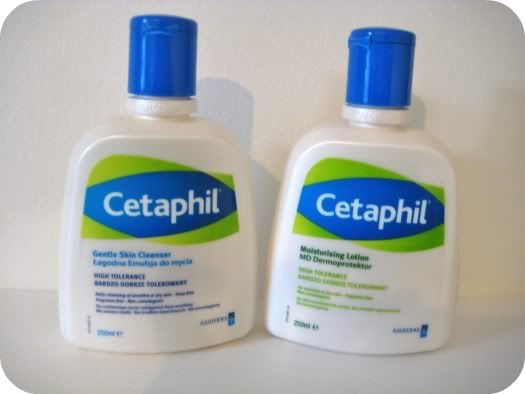 Product
Cetaphil Gentle Skin Cleanser and Cetaphil Moisturising Lotion
Price
Cleanser- £8.99 RRP
Moisturiser- £8.99 RRP
This product was sent to me for review purposes.
What does it claim to do?
"Cetaphil Gentle Skin Cleanser cleanses, moisturises and gently removes what your skin doesn't need, without stripping away the skin's natural protective oils, and without disturbing the skin's natural pH balance. Cetaphil offers gentle and thorough cleansing without the irritation associated with harsh soaps."
"Cetaphil Moisturising Lotion enhances the skin's natural moisture-protection system and helps restore the skin's natural protective barrier." - press release
What do I think?
Cetaphil's strapline is 'seriously gentle skincare' which appealed to me straightaway. I've heard lots of good things about Cetaphil as it is so popular, especially in the US . It's only last month that Cetaphil became readily available in the UK. From the 10th October it has been available in larger Boots stores and other leading pharmacies- their
UK website
lets you find your nearest stockist.
I have been trying the cleanser and moisturising lotion over the past few weeks and impressions are good so far. You apply the cleanser by simply applying to the skin, massaging and then remove by either rinsing or removing the excess with tissue or cotton wool. I started by just rinsing off the product but have started to use it with a muslin cloth as I feel more satisfied when I see the make-up left on the cloth. The first thing that I noticed was just how gentle it was- it is unscented and feels lovely on my skin. When I remove it my skin feels so squeaky clean, but not in a stripping of the skin way.
The only negative for me is that I'm a massive fan of the cleansers such as the Liz Earle Cleanse & Polish and the MAC Cleanse Off Oil which remove eye make-up as well. I wouldn't use the cetaphil to remove eye make-up so have been using my
Bioderma
to do this seperately. I'm not used to doing the two steps again!
There is not a huge amount to say about the moisturising lotion- as with all Cetaphil products it is unscented and has almost a gel like texture. A little goes a long way and it feels really light on the skin. I feel that this a good moisturiser but not a brilliant one. With my favourite moisturisers like the Liz Earle Superskin and Embroylisse I wake up the next morning and my skin still feels soft and lovely- but I didn't get this with the Cetaphil.
Would I re-purchase?
I would buy the cleanser but not the moisturising lotion.