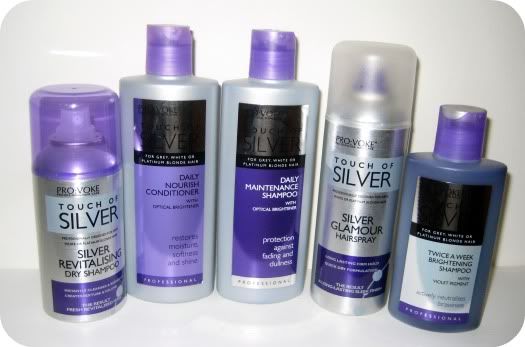 I mentioned the Pro:voke Touch of Silver Twice a Week Brightening Shampoo in my June favourites- it was
Lucy
who introduced me to this shampoo and I was so glad she did as it's a brilliant shampoo for brightening blonde hair and taking out any 'orange' tones. After using the John Frieda Lightening Spray a bit too generously it made my roots slightly orange and so used this shampoo twice a week- it worked a treat.
I have now been introduced to the whole range which you can see above. The range includes:
♥ Daily Main
tenance Shampoo

- Its gentle formula cleanses and protects hair against fading & dullness to help maintain silver tones in-between washes. An Optical Brightener optimises reflected light to instantly boost shine, whilst Sunflower Seed Extract and UV Absorber help to protect against photo-damage to safeguard your colour.
♥ Daily Nourish Conditioner -

Its creamy protective formula helps repair dry, damaged hair by infusing extra moisture to give hair an improved smooth and silky texture.
♥ Twice a Week Brightening Shampoo -

This hair hero contains colour violet pigment to instantly revive, lacklustre grey, white or platinum blonde hair. It neutralises yellow tones, adding vibrancy and depth to bring a new lease of life to dull lifeless hair. Active ingredients penetrate the hair shaft, softening the hair and improving the hair's suppleness.
♥ Silver Glamour Hairspray -

This professional hairspray has a micro-fine, quick drying mist, to provide long-lasting firm hold, without crunch or stickiness.
♥ Silver Revitalising
Dry Shampoo
- Perfect for in-between washes or glamour on the go, this dry shampoo has a fresh fragrance with lots of zing and sparkle.
I am yet to use the hairspray and dry shampoo but have been using the daily shampoo and conditioner- I've only used it a few times but so far so good! It is a lighter purple colour than the twice a week shampoo (which is so purple its a bit scary to use at first!) so feels more gentle and can easily be used regularly.
I first bought the brightening shampoo from Ebay for about £4 as I think it was quite hard to get hold of, but their brand new website lists the stockists and it now seems to be easier to get hold of at places such as Sainsbury's.
Have you tried any of the items from this range?
On the subject of shampoo and conditioner- a quick question for you. Do you run out of shampoo faster than your conditioner or vice versa? I asked this on Twitter and it was a complete mix of answers. I always run out of shampoo faster, probably because I only use conditioner on my ends- it's interesting to see how people differ!