Yesterday evening I decided to let Chris do my make-up as I was totally inspired after reading
Laura's post
where she let her boyfriend do hers.
First of all, Chris had to go through my make-up to choose what he wanted. The idea was that he would give it his best go with no guidance from me. He chose the following (apart from the brushes as these were just my selection which he chose from) :
So in a bit of a step by step guide to his make-up attempt...
1)

He started off by grabbing the Collection 2000 concealer and putting 3 splodges on my cheeks and chin "I'm sure I've seen you do this" (think he got confused with foundation) and then blended it in. A classic line was "lets put this on your t-bone area".
2)

Obviously he went for the most expensive of my foundations, the Nars Sheer Glow. Initially Chris was going to pour the foundation direct from the bottle and straight onto my face but I quickly steered him away from going in that direction (ignoring the no intefering rule!). He then decide to powder my face with my MSF and wow, did he use a lot. I usually tap a kabuki brush in there and shake off any excess but he was a man on a mission and I don't think I've ever seen so much powder swirling in the air. There was a lot of powder and a lot of foundation- I don't think my skin has ever felt so full of make-up however he did a great job of blending it all.
3)

Next up was blush; "I like you with really rosy red cheeks". Benefit's Coralista was applied numerous times along my cheekbones and although it was really very rosy, he did a much better job of actually bringing out some non-existent cheekbones!
4)

He started on my eyes by using the Benefit's Erase Paste and spent a lot of time blending it round my eye, and also on my eyelid. He then decided to use one of the dark Urban Decay Naked shadows in Creep. This was brushed on one lid before he decided it didn't look good. He wiped off a bit with some tissue and water and then decided to start using the Sheer Glow foundation as a corrector. So on went the foundation, onto my eyelid, followed by even more MSF powder. This accounts for why one of my eyes looks very pale and foundation-y compared to the other! He finished with some of the MAC eyeshadow in cork.
5)

Once Chris had found this 'brilliant' technique of covering up mistakes with foundation he was an unstoppable force and this was used for every mascara smudge. He decided against eyeliner as didn't want to "poke me in the eye" so attempted using some mascara and didn't do too bad a job...
6)

Finally- he opted for some lip balm instead of lipstick and chose the Lush Snow Fairy balm.
And the finished look...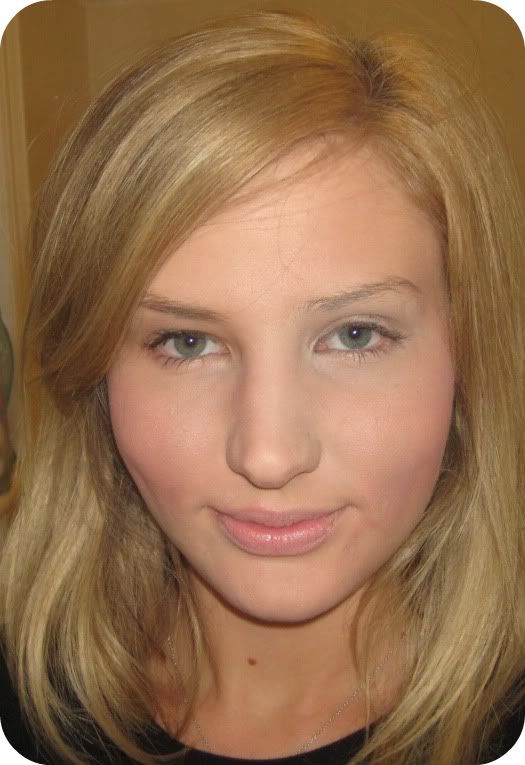 Not too bad a job! If he toned down the foundation and didn't use so much of this on my eyes it would have been half decent! Maybe a little more eyebrow tidying too. Saying that, I don't think I'll be employing him as my full time make-up artist :)