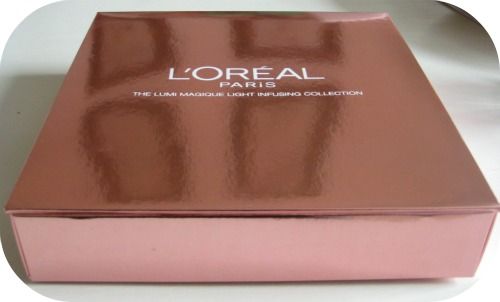 This month, L'Oreal Paris have released a collection of illuminating bases- the Lumi Magique Collection. I jumped at the chance to try these products as I'm always looking for products that will make my skin look more glowy and 'illuminated'. They arrived in a gorgeous box (pictured above) which opens to reveal the Lumi Magique Light Infusing Foundation, Lumi Magique Touch of Light Highlighting Pen and Lumi Magique Pure Light Primer and also a very handy mirror in the lid.
I've only had a quick try of these products and will do full reviews- however have included my initial thoughts below.
Lumi Magique Pure Light Primer (RRP: £9.99)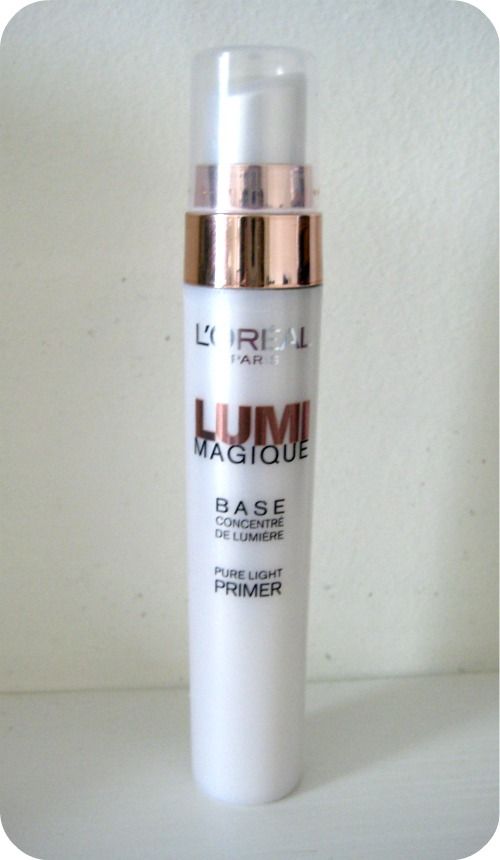 L'Oreal say: "Brighten skin with Lumi Magique Pure Light Primer, an instant light source which gives an enviably glowing complexion. Featuring Liquid Light TechnologyTM for an immediate illuminated optical effect, the skin's surface looks flawless and full of vitality."
This can be used in a few ways; alone or under foundation or dabbed onto cheeks and brow bones as a highlighter. The product is a shimmery white cream which reminds me very much of MAC's strobe cream. As I mentioned, I haven't tried any of these products extensively but I liked mixing this with a more matte foundation (I mixed with Estee Lauder Double Wear Light) to give it more of a glowy look. I also think it will look fantastic as a highlighter.
Lumi Magique Light Infusing Foundation (RRP: £10.99)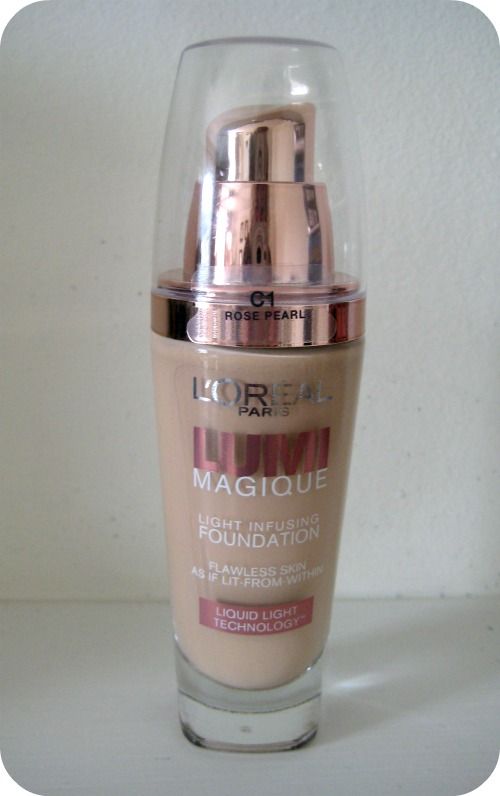 L'Oreal say: "Illuminate and revitalise the look of dull skin with instant radiance with new Lumi Magique Light Infusing Foundation featuring Liquid Light TechnologyTM. Designed to deliver a natural looking luminous and glowing complexion, skin looks flawless, as if lit from within. A silky soft, fluid texture glides on seamlessly to enrobe skin with lightweight coverage without masking. Skin feels light to the touch and is hydrated for up to 24 hours."
My first impressions of this foundation were that I love the packaging. It's similar to the L'Oreal True Match foundation but more expensive looking and really reflects the 'illuminating' qualities that the foundation has. I have only tried the foundation once and thought it was good, but not amazing. I really hoped to be 'wow-ed' by this as it has all of the qualities that I want from a foundation. I am suffering from a few patches of dry skin and the foundation seemed to enhance these rather than providing moisture- however where my skin was normal/oily it looked lovely and definitely made my skin more luminous. I think I will have more of an idea about this after a few more uses so will make sure to do a full review!
Lumi Magique Touch of Light Highlighting Pen (RRP £8.49)
L'Oreal say:
"Smooth away the appearance of dark shadows with Lumi Magique Touch of Light Highlighting Pen, a light enhancing concealer pen. In one simple stroke, this brush on perfector helps to brighten the appearance of your eyes with instant light infusing radiance."
This is

the YSL Touche Eclat of the range- a highlighting pen for use on dark circles and also for enhancing cheekbones and highlighting the face. I love these products as I don't suffer from bad dark circles but just need an extra something to make the area lighter. Whilst this doesn't live up to Touche Eclat (I don't think many under-eye products do!) it works well and is really easy to apply. And I adore the packaging!
Have you tried anything from the Lumi Magique Collection?